I'm so excited about my next project....I will use this orange polished cotton fabric with Butterick B5317, view B. Yes, those are cap sleeves...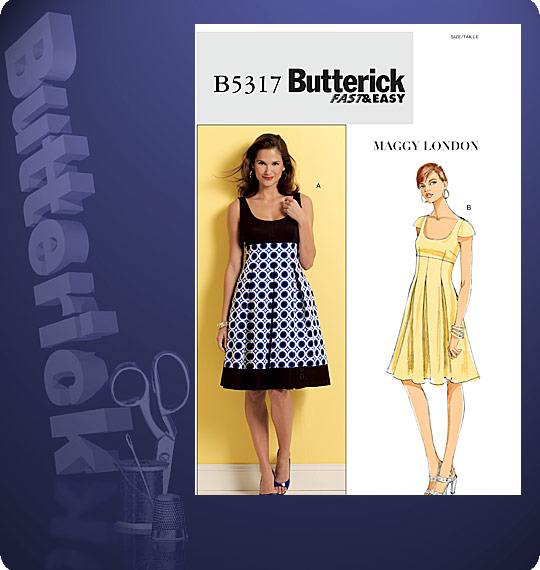 I have been looking forward to using this orange fabric for a while....and it has some great features!
1) The fabric is reversible. I think I may use the flat background with shiny symbols side, just because flat will hide any "lumps" in my figure better. I did consider using both sides of the fabric; for instance, I could use the shiny side on the border and the bodice and the flat for the skirt part. But, I don't feel like there's enough contrast in the fabric to do that. Sometimes if there isn't enough contrast, it looks more like a mistake, like you didn't cut all the fabric pieces in the same direction.
2) This fabric has great drape, meaning it's very flowy, which will be shown off by the folds of this dress.
3) Notice the frayed salvages--I was considering cutting a strip of salvage to go on the hem and below the bodice (I would need to trim the fray to make it even, of course)...or make an outside pocket and attach the frayed edge. But a pocket would probably gape because of the fabric folds, so I'd need to sew a button at the top of the pocket. I could also put the fray between the skirt and border pieces, below the bodice and then at the bottom of the cap sleeves and no pocket.
Using the fray would definitely change the feeling of the dress, and make it look more funky. Not using the fray would give it a more polished look. I vote for the polished look and then I will use the frayed edge somewhere else...although I may change my mind before the next post.
4) This fabric won't need to be ironed much if at all, a great feature!
5) I love the color, it reminds me of orange sherbet.
6) It matches great with these shoes of mine...I can't wait to wear them with the dress!
I have this coral bracelet on gold, but I don't think there's enough of a contrast to wear this. Not enough contrast = boring (usually).
I also have this pair of sandals--I love the beads on the front and I think it would look cute, but casual, which is fine too.
8) Last, but very important, this fabric is not sheer, so I don't need to line it, whew!
This dress will look fantastically tropical and I can make it fast, but first, I have several adjustments to make. I'll outline them on my next post!
What bright colors do you like to wear? Older women look great in bright colors, btw!